At Home Birthday Parties, Long Island*
*check with us for location availability
Our famed party experience comes to your door step!
At home birthday parties are the best way to achieve convenience!
Divas on the Road creates Divalicious birthday packages for girls from age 3 – 13 at your Long Island home!*
Over the past 9 years we have had over 2,000 makeover and spa parties! We can accommodate all themes to make your Diva's day spectacular. We create a Darlings & Divas experience in your house or party location of choice by bringing tables, chairs, throw rugs, accent pillows, and other adorable decorative accents. Exclusive party invitations, music, hula hoops, and teen magazines are available at no additional charge. *Please
call us
to make certain we travel to you*
Two Hour Party Packages- We come to YOU!
Plan the perfect party for your Diva. Each two-hour party package includes our exclusive invitations and Divalicious party hostesses that come prepared with everything needed to make each party fantastic such as: tables, chairs, pedicure bins, tablecloths, throw rugs, pillows, lounge area with fashion magazines, sound system with latest music, and more.
Choose from the following services:
Ice Cream Pedicure for each Diva: Pedicures start off with a fizzy foot bath in fabulous flavors like birthday cake, strawberry, and chocolate. Then, a sweet sugar scrub is applied to smooth the skin. A super moisturizing masque in chocolate, marshmallow, or caramel is then applied while Divas thumb through a selection of magazines. Pedicures are then finished with delicious body icing and a choice of polish in all the latest colors, glitters or designs.
Mini-manicure: With our exclusive scrumptious lotions in bubble gum, fruit punch, fruit loop, and more. Then, fingers are perfectly polished with a choice of the latest colors, glitters and designs.
Glitter Tattoos: Perfect for boys & girls, as seen on TV and in your favorite theme parks! Glitter tattoos last 3-5 days and are completely customizable and waterproof. Divas pick their tattoo stencil, body location, and glitter colors to make the tattoos completely their own.
Glittering makeup application: With eye shadow, glittering face star, blush and lipstick.
Hairstyle with washable color: Hairstyle with choice of braids or ponies with spray color and glitters.
Face Painting: Perfect for boys and girls! Choose from fantasy designs, animals, super heroes and more!
PRICING:
Choice of 2 services, two hours, $365.00 for 11 divas, $19.99 each additional child
Choice of 3 services, two hours, $465.00 for 11 divas, $24.99 each additional child
Choice of 4 services, two hours, $565.00 for 11 divas, $29.99 each additional child*
*Prices do not include gratuity. Gratuities are at the customers' discretion. For parties of 20 or more an 18% gratuity will be added.
CALL (516) 695-0445 to book a spa party at your Long Island home.
**travel fees may apply**
Party Upgrades- We come to YOU!
Goodie Bags, $5.50 each
Includes a seasonal combination of jewelry, makeup, hair accessories, and other glam goodies.
Divalicious Candy Buffet, $5.50 each child
Does your Diva have a sweet tooth? Sweet buffets are all the rage. Candy buffet includes an assortment of the sweet stuff girls want such as Blow Pops, Pixie Sticks, gummy bears, Nerds, and more! Does your Diva have a favorite candy? We'll customize the buffet to her tastes!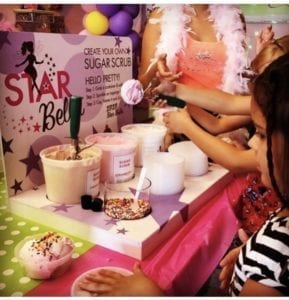 Make Your Own Stations
Adding make your own stations to your home party are all the rage!
CHOICES:
Make Your Own Lip Gloss – $6.99 each
Make Your Own Body Sugar Scrub Scoop – $4.99 each
Make Your Own Shimmer Lotion – $4.99 each for small / $9.99 each for large
Make Your Own Fragrance/Perfume – $7.99 each for small / $10.99 each for large
These stations can be added during your 2 hour package. We will bring all the supplies to your Long Island home or location.
Group or Individual Photos Including a cardboard frame, $4.00 each
Give your guests a lasting memory of their party experience. We'll bring our camera and printer to print your photos on the spot!
Dress-up Trunk, $45.00
This Divalicious Trunk is filled with costumes (boys & girls of various sizes available), wings, boas, jewelry, and other accessories.
Facial Bar, $3 each child
Our exclusive facial bar is hand-crafted facials made from all-natural, food-grade ingredients. While waiting for their manis or pedis, Divas can relax and apply their own facials complete with cucumber slices for tired eyes.
Fluffy Robe and Head Wrap Service, $3.00 each child
Make it the ultimate spa party by adding our colorful laundered robes and wraps! It's a perfect pair with facials!
The above parties packages are just some examples of what we can offer. We will gladly adjust our packages to accommodate your children, group size, themes, locations, etc. Not all locations and groups of children are conducive for all events. Please speak to your party planner today to create the perfect party for your Diva.
Call us today with any questions, or to book your at home party (631) 608-4710!